Nov. 21, 2020: Every 2000 years, Comet Erasmus (C/2020 S3) visits the inner Solar System. News Flash: It's back. Discovered on Sept. 17, 2020, by South African astronomer Nicolas Erasmus, the dirty snowball is plunging toward the sun for a close encounter inside the orbit of Mercury on Dec. 12th. This is what it looks like: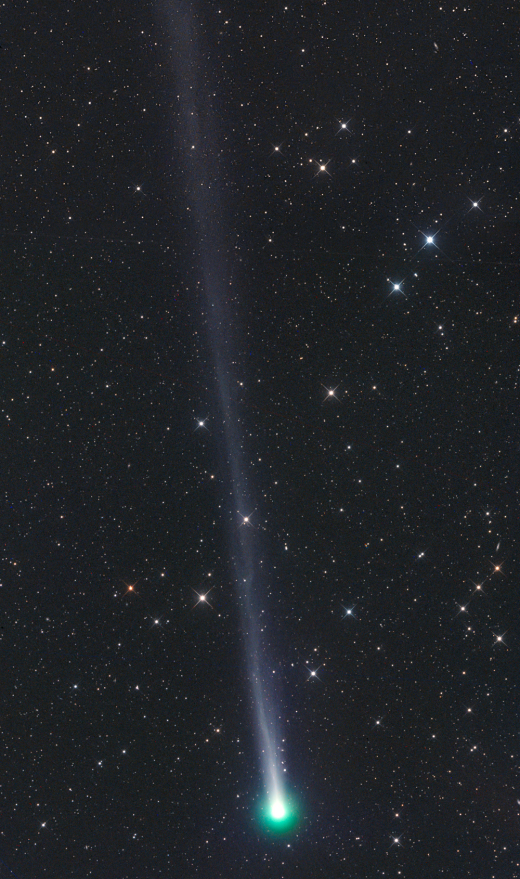 Gerald Rhemann took the picture Friday morning, Nov. 20th, using a 12-inch telescope in Farm Tivoli, Namibia. "The tail is magnificent," he says. "In fact, I couldn't fit it in a single field of view. This two-panel composite shows the first 3 degrees–and it keeps going well past the edge of the photo."
Comet Erasmus is brightening as it approaches the sun. Right now it is 7th magnitude–an easy target for backyard telescopes. Forecasters believe it will more than triple in brightness to 5th magnitude by the time it dips inside the orbit of Mercury next month. Only the glare of the nearby sun will prevent it from being visible to the naked eye.
Where should you look? If you can find Venus, you can find the comet. Look low and southeast before sunrise. Comet Erasmus is in the constellation Hydra just to the right of Venus in neighboring Virgo. The bright star Spica is nearby, too, providing another useful reference point. Sky maps: Nov. 22, 23, 24, 25, 26.
Realtime Comet Photo Gallery
Free: Spaceweather.com Newsletter