Dec. 5, 2020: Solar physicists have long known that the two hemispheres of the sun don't always operate in sync.  While one hemisphere is active, the other may be utterly quiet; Solar Max in the North can be offset from Solar Max in the South by as much as two years. The sun's lopsided behavior is on display right now, as shown in this Dec. 4th photo from NASA's Solar Dynamics Observatory: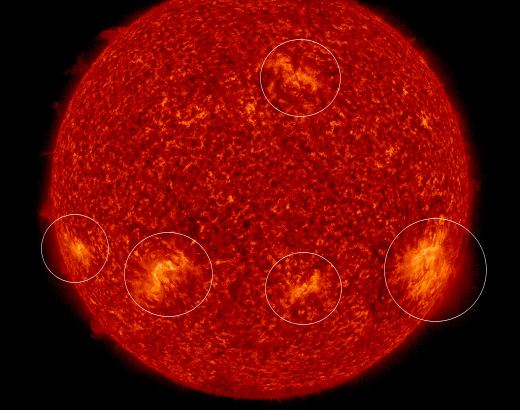 In the southern hemisphere, there are 4 times more active regions than in the north. Since the big sunspots of Solar Cycle 25 started appearing in October 2020, approximately 82% of all 'spots have been in the south. The vast majority of all solar activity is coming from just one half of the sun.

An excellent historical review of sunspot activity penned by retired NASA scientist David Hathaway shows that solar cycles often tilt one way or the other. The great Solar Cycle 19 of the 1960s, for instance, was mostly southern, an asymmetry which spilled over into Solar Cycle 20 as well:

Smoothed monthly sunspot areas for northern and southern hemispheres separately. The difference between the curves is filled in red if north dominates or blue if south dominates.
Other solar cycles have been more balanced, with only razor-thin margins separating one hemisphere from the other.
How will Solar Cycle 25 shape up? If history is any guide, the northern hemisphere of the sun will eventually catch up. For now, though, Solar Cycle 25 has a distinctly southern personality. Solar flares, y'all?