June 14, 2021: The season for noctilucent clouds (NLCs) is now 3 weeks old. This animation from NASA's AIM spacecraft shows a thickening spiral of frosted meteor smoke around the North Pole: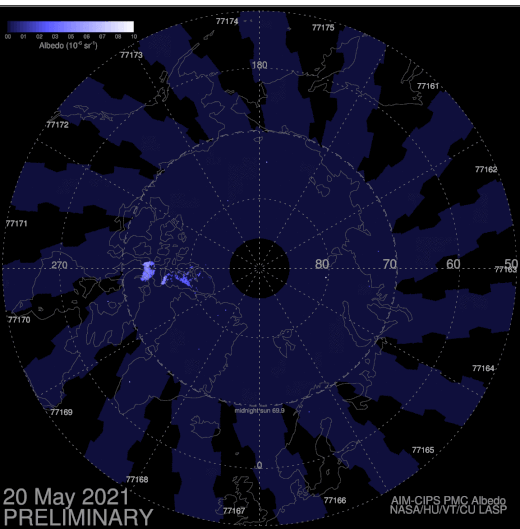 Above: Noctilucent clouds from May 21st through June 11th. Credit: NASA/AIM
Noctilucent clouds form every year, approximately now, when summertime wisps of water vapor rise to the edge of space and crystallize around disintegrated meteoroids. The icy clouds float 83 km above Earth's surface, making them (by far) our planet's highest clouds.
Mid-June to July is typically when NLCs are most widespread. At the moment, though, they're mostly confined inside the Arctic Circle. Some spillage into mid-latitudes has been reported from Canada, Scotland, Poland, the Netherlands, and England. This is a far cry from the low latitude excursions of recent years. In June 2019, for instance, NLCs were seen as far south as Los Angeles and Las Vegas.
What's holding the clouds back? To answer this question, Lynn Harvey of the University of Colorado's Laboratory for Atmospheric and Space Physics (LASP) took a look at current conditions in the mesosphere where NLCs form. "The time series below shows that water vapor in the mesosphere is relatively high," she notes.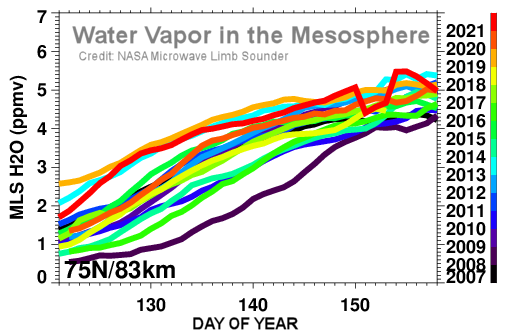 This is actually good news for noctilucent clouds, which form only when the mesosphere is both cold and wet. In the plot, red traces 2021. This year has been among the wettest since AIM was launched in 2007.
Now for the not-so-good news: Harvey has also looked at temperature in the mesosphere and "it is just 'middle of the road,'" she says. Unremarkable cold above the North Pole appears to be slowing the clouds' growth.
There is plenty of water in the mesosphere. The temperature just needs to drop so more H2O molecules can latch on to specks of meteor smoke. If that happens, 2021 could still shape up to be a good year for noctilucent clouds.
Stay tuned.