Sept. 16, 2021: SpaceX just made history again. On Sept. 15th, a Falcon 9 rocket blasted off from Cape Canaveral carrying the first all-civilian crew to Earth orbit. "It was spectacular," reports Bill Williams of Titusville, Florida. "Shooting from the west side of the Indian River, I recorded exhaust plumes and a dramatic 'rocket nebula' in the moonlit dusk skies."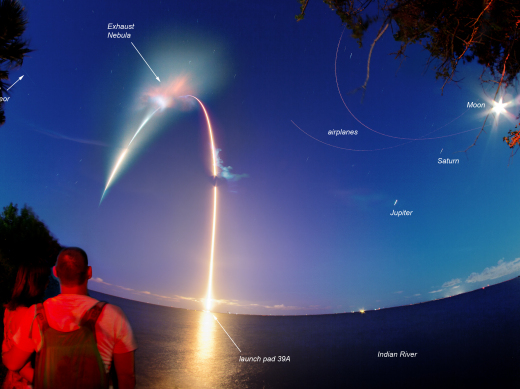 "I would rather have been on the rocket," says Williams, "but the view from Earth wasn't bad either!"
This mission, named "Inspiration4," is setting a number of milestones. First of all, there are no astronauts onboard. It's the first orbital spaceflight crewed entirely by private citizens. One of them, Hayley Arceneaux, age 29, is the youngest American ever to go to space. All 4 citizens received astronaut training from SpaceX, including orbital mechanics, microgravity exercises and mission simulations.
Arceneaux is also a pediatric cancer survivor, and the flight is raising money for childhood cancer research. The seat next to her on the spacecraft was raffled off, raising $200 million for the St. Jude Children's Research Hospital, where Arceneaux's life was saved years ago.

To top it all off, the crew are orbiting higher than any astronauts since STS-125 in 2009. They're actually above the International Space Station.
If all goes as planned, the capsule will be in Earth orbit until Sept. 19th. One end of the spacecraft has a bubble-shaped window, giving the space travelers an unparalleled view of Earth. Here on the ground, we can look up and see them, too. The capsule is about as bright as a 3rd magnitude star, easy to spot from rural areas. For local flyby predictions, check Heavens Above.