Aug. 31, 2022: A CME billowed away from the farside of the sun yesterday, Aug. 30th, and it was spectacular. Coronagraphs onboard the Solar and Heliospheric Observatory (SOHO) recorded a full halo storm cloud: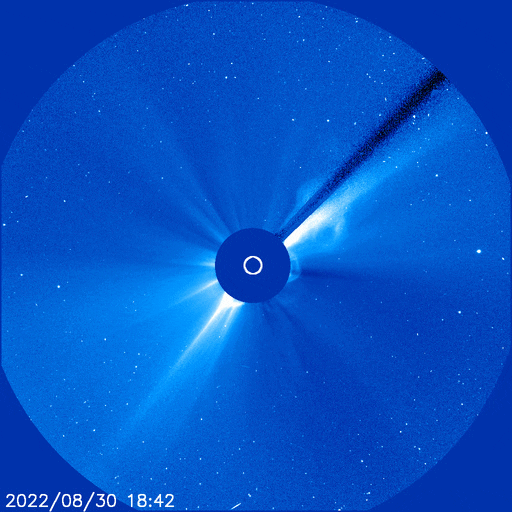 If Earth were in the crosshairs, we would be bracing for a strong geomagnetic storm. Instead, Venus will absorb the blow. NASA models show the CME making a direct hit on the second planet.
The Venus impact on Sept. 1st (~0600 UT) will not cause a geomagnetic storm. It can't. Venus has no internally-generated global magnetic field. Rather, the impact will erode some atmosphere from Venus's unprotected cloudtops–a process that does not occur on Earth.
The source of the CME is probably active sunspot AR3088, which left the Earthside of the sun two days ago. This sunspot was extremely active while we could see it from Earth. Now Venus is in the line of fire.
Coincidentally, the European Space Agency's Solar Orbiter spacecraft is currently very close to Venus. That means it can study the CME as it passes by. If explosions from AR3088 continue apace, Solar Orbiter could get great data in the next week as potentially many storm clouds wash over the spacecraft.
This story is brought to you by Spaceweather.com