Sept. 10, 2022: Later today, SpaceX will launch an unusual satellite: BlueWalker 3. Designed to supply 4G cell phone signals from space, Bluewalker 3 will unfurl a large antenna spanning 64 square meters–the size of a squash court: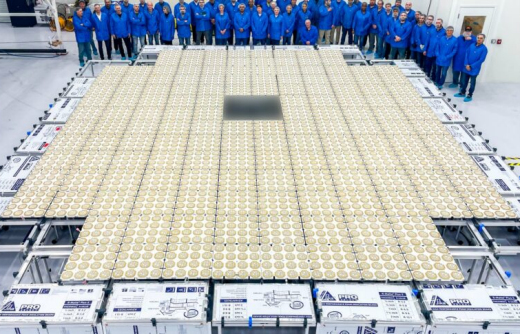 This flat surface orbiting 500 kilometers above Earth will reflect a lot of sunlight, which could make the satellite extremely visible to observers on the ground. It could become brighter than the planet Venus, outshining everything in the night sky except the Moon.
While this is only a single satellite for now, Bluewalker's maker AST SpaceMobile plans to launch more than 100 larger satellites called BlueBirds. These satellites, which could be more than twice the size of BlueWalker 3, would appear even brighter in the sky.
For astronomers, the satellites could create bright streaks across images from ground-based telescope, potentially making them unusable for observing more distant objects.
Should we be concerned? Maybe. First let's see how bright Bluewalker 3 actually is. It is scheduled to launch from Cape Canaveral on Sept 10th between 9:10 p.m. to 9:20 p.m. EDT. A batch of 34 Starlink satellites will share the ride.
Update: SpaceX successfully launched the huge BlueWalker 3 communications satellite and 34 Starlink satellites on Sept. 10th at 9:20 pm EDT.
This story was brought to you by Spaceweather.com