Nov. 19, 2022: Astronomers are getting better at this. Today, for the 6th time in recent history, an Earth-bound asteroid was discovered before it hit Earth. Astronomer David Rankin was conducting a routine survey at Mt Lemmon, Arizona, on Nov. 19th when he spotted the 0.7-meter space rock coming in from the asteroid belt. Three hours later it was blazing through the atmosphere above Canada: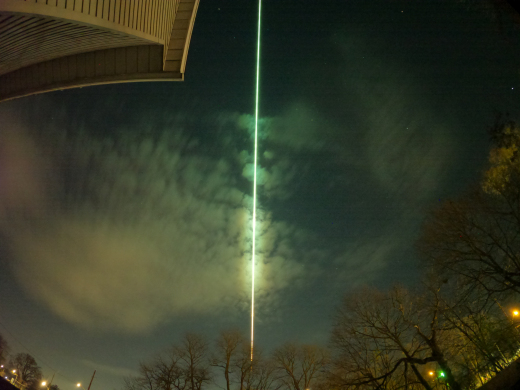 Dereck Bowen photographed the Moon-bright fireball (above) from his backyard in Brantford, Ontario. "It was a lucky shot," he says. "I had my GoPro set up trying to get some action from the Leonid meteor shower, and I was astonished to find the asteroid."
Not everyone was surprised. Rankin's discovery triggered warnings of an imminent impact. According to the Minor Planet Center, seven observatories had time to photograph the sub-meter object before it hit on Nov. 19th at 08:27 UTC. This is a testament to astronomers' improving ability to catch incoming dangers from space.
After the asteroid entered the atmosphere, ground-based weather radars tracked pieces of the disintegrating space rock as far down as 850 meters above Earth's surface. It was a deep hit, and meteorites may have reached the ground east of Grimsby, Ontario. NASA created this map of the fall zone: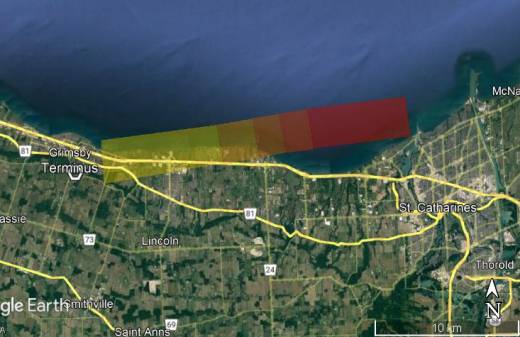 Above: Colored polygons estimate the landing sites of meteorites from ~1g (yellow) to 10kg (red) [more maps] Credit:NASA/ARES
Most of the fall landed in Lake Ontario but small masses might be found east of Grimsby with larger masses near McNab, according to NASA's Astromaterials Research and Exploration Science Division. If you find a piece, here's how to handle it.
More than 50 eyewitness reports of the fireball have been submitted to the American Meteor Society from as far south as Maryland in the USA. Experienced observers say the fireball's peak brightness was between magnitude -10 and -20. For some people the fireball was brighter than a full Moon.
The Minor Planet Center has posthumously designated this asteroid 2022 WJ1.
For the record, previous asteroids detected just before they hit Earth are: 2008 TC3, 2014 AA, 2018 LA, 2019 MO, and 2022 EB5. There have been two this year alone!
more images: from Brian Curtis of Sault Ste Marie, Michigan
This story was brought to you by Spaceweather.com