Feb. 1, 2023: In a continued sign of strength for Solar Cycle 25, sunspot counts just hit a 9-year high. This plot from NOAA shows how the monthly sunspot number skyrocketed in January 2023:

The monthly sunspot number of 144 in January 2023 was only percentage points away from topping the previous solar cycle, Solar Cycle 24, which peaked in Feb. 2014 with a monthly value of 146.
Originally, forecasters thought Solar Cycle 25 would be about the same as Solar Cycle 24, one of the weakest solar cycles in a century. Current trends suggest Solar Cycle 25 will surpass that low threshold, at least. Solar Maximum is not expected until 2024 or 2025, so it has plenty of time to strengthen further, perhaps far exceeding Solar Cycle 24. You can follow the progression here.
Extra: What made January 2023 so special? This picture says it all: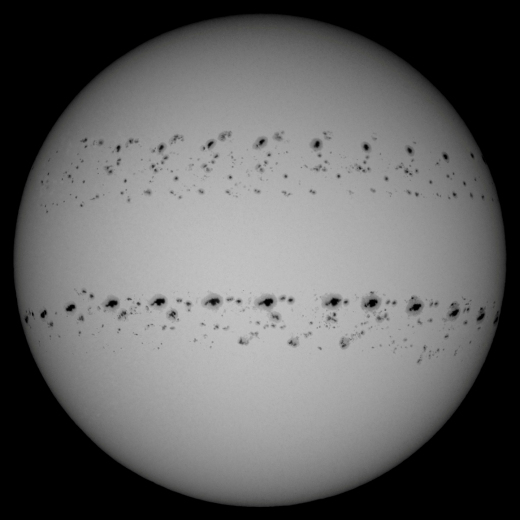 This is a composite image created by Patricio Leon of Santiago, Chile. Almost every day in January, Leon photographed the sun, and stacked the images to show the march of large sunspots across the solar disk.
This story was brought to you by Spaceweather.com