Sept. 11, 2019: Scott Tilley has an unusual hobby. He scans the skies for satellites where they shouldn't be. Using an S-band receiver, the amateur radio operator has tracked many classified spacecraft orbiting Earth and famously found NASA's IMAGE satellite when it woke up from the dead last year. This past weekend he bagged another one: GOES-13.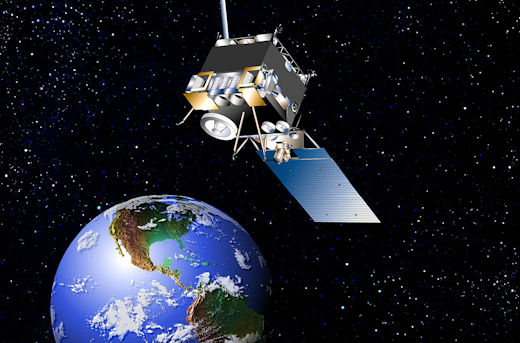 "This was quite a surprise," says Tilley. "I thought GOES-13 was in a graveyard orbit–yet I found it quite active and wandering on Sept. 8th."
GOES-13 is a NOAA weather satellite. It was retired in January 2018 after a storied 12-year career during which it monitored some of the most notorious weather events in recent U.S. history – including Hurricane Sandy in 2012 and the triple disaster of Hurricanes Harvey, Irma and Maria in 2018. The satellite also experienced significant space weather: In December 2006, GOES-13 observed a solar flare so intense it damaged its onboard Solar X-ray Imager.
When weather satellites are retired, they are typically steered into a high parking orbit for storage. GOES-13 was reportedly "parked" over longitude 60W. But that's not where Tilley found it.


Above: GOES-13 S-band signals received by Scott Tilley on Sept. 8, 2019.
"It was drifting westward through longitude 135W," he says. "As it was emitting strong radio signals it seemed to me it was going somewhere and with no public statements I could find about this it encouraged me to start an observing campaign."
Tilley quickly focused his attention on the night of Sept. 9th when the satellite would drift through Earth's shadow–essentially experiencing a solar eclipse. Would the solar powered satellite survive the blackout?
"Indeed it did," reports Tilley. "Strong radio transmissions continued before, during and after the eclipse. GOES-13 still has a working battery."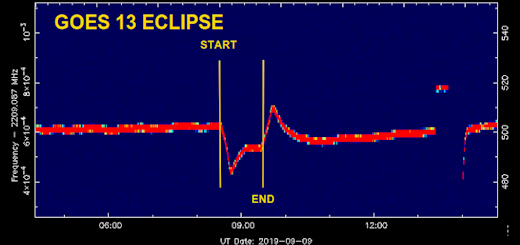 Above: GOES-13's response to a solar eclipse, indicating what appears to be nominal battery operation.
This is significant, Tilley explains, because "satellite batteries are sometimes intentionally disconnected as part of their retirement process.  The idea is to ensure the battery doesn't explode or do something else unwelcome after the system is shutdown and create unintentional space debris. In my mind, a good battery seals the notion that GOES-13 is operational."
But what is the operation? Tilley suspects that GOES-13 may have been drafted by the US military. News reports earlier this year suggested that the US Air Force is interested in using retired weather satellites as observing platforms. Before GOES-13 was "retired," its visual imaging system was still fully functioning.
"Only time will tell where GOES-13 ends up," says Tilley. "But given the nature of these observations there is no doubt in my mind the spacecraft is alive and under intelligent control. The question is, who is the intelligence?"
For a fuller discussion of Tilley's observations, check out his blog post.
Realtime Space Weather Photo Gallery
Free: Spaceweather.com Newsletter