April 23, 2020: A series of unusually severe spring storms parading across the southeastern USA has residents taking shelter from golf-ball sized hail and dangerous tornadoes. High above the maelstrom, sprites are dancing. Paul M. Smith of Edmond, Oklahoma, captured these specimens on April 22nd.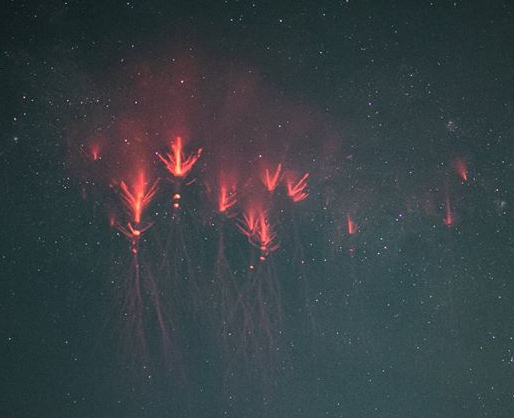 "There were tornado warnings and very large hail throughout the night," says Smith. "I photographed the sprites through a clearing around midnight."
Sprites are a form of electricity in powerful storm clouds. While regular lightning lances down, sprites leap up. They can reach all the way to the edge of space 90 km or more above Earth's surface. Spring thunderstorms often produce the year's first big sprites, and the sightings continue through late summer.
"My camera was pointed toward Oklahoma City," says Smith, "and the sprites were about 150 miles away." This radar weather map shows shows the observing geometry: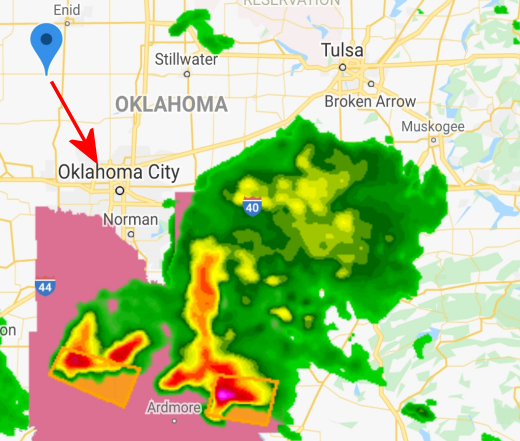 When observing sprites, this kind of distance is a good thing. It allows a camera to see over the top of the thunderhead into the sprite zone. It also provides a measure of safety, separating the photographer from lightning strikes.
Smith also photographed sprites on Easter Sunday. They towered over a storm in Arkansas that made headlines for its ferocity and destructiveness. "The sprites were so bright, I was able to photograph them in almost-full moonlight," he says.
This could turn into one of the best sprite seasons on record. Why? Solar Minimum. The sun is currently experiencing one of the deepest minima in 100 years. As the sun's magnetic field weakens, more cosmic rays from deep space are reaching Earth. Some researchers believe that cosmic rays help sprites get started by creating conductive paths in the atmosphere. Intensifying cosmic rays could produce an unusually spriteful spring.
Are you ready?
Realtime Sprite Photo Gallery
Free: Spaceweather.com Newsletter