Oct. 24, 2021: Something does not add up. New sunspot AR2887 has two primary cores, each about the size of Earth. Usually when a sunspot looks like this, the two cores have opposite magnetic polarities, positive (+) and negative (-). In this case, however, they're the same.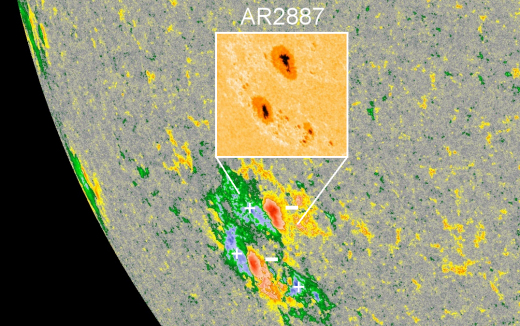 Pictured above is a magnetic map of AR2887 from NASA's Solar Dynamics Observatory. It shows the primary poles of double sunspot AR2887 are both negative (-). Surrounding patches of positive (+) magnetic flux provide balance.
Perhaps AR2887 is not one but actually two sunspots jammed together in close proximity. We'll get a better view of its magnetic architecture as AR2887 turns toward Earth in the days ahead. Stay tuned. Solar flare alerts: SMS Text.
more images: from Cai-Uso Wohler of Bispingen, Lueneburg Heath, Germany; from Francois Rouviere of Cannes, France; from Richard Jaworski of Carlingford, NSW, Australia; from Maximilian Teodorescu of Magurele, Romania;