Oct. 24, 2021:
The British Astronomical Association (BAA) is reporting another strong outburst of Comet 29P/Schwassmann-Wachmann. The volcanic comet suddenly brightened 10-fold on Oct. 23.75 UT when a sunlit vent opened, spewing 'cryomagma' into space. Dr. Richard Miles of the BAA provided this light curve: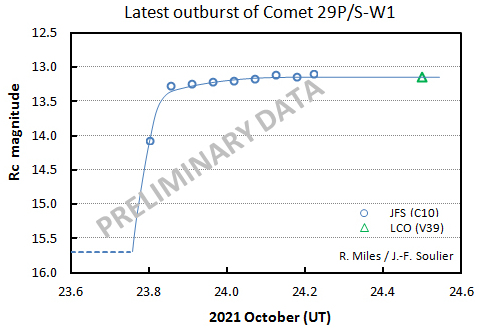 Comet 29P is one of the strangest objects in the solar system. In fact, it strains the definition of "comet." 29P is a ball of ice 60 km wide (much larger than a typical comet) trapped in a planet-like orbit between Jupiter and Saturn. It appears to be festooned with ice volcanoes which erupt ~20 times a year.
A rapidfire "super-eruption" of 4 volcanoes in late September created an expanding shell of vaporized cryomagma, which astronomers have been monitoring. Yesterday's eruption propelled a new compact shell into the old larger one:
29P rotates once every ~58 days. As sunlight sweeps across its frozen surface, cryovolcanoes erupt under the high sun. "The latest eruption has taken place some 59 days after a similar event on August 25th, and may be an example of an outburst from the same cryovolcano erupting a second time on the next rotation of the nucleus," says Miles.
Amateur astronomers with mid-sized telescopes and astrophotography experience are encouraged to monitor 29P. It changes every night. The comet is located in the constellation Auriga, high in the northern sky at midnight. Point your optics here and check the BAA's Mission 29P website for updates.
more images: from Eliot Herman using a telescope in Mayhill, New Mexico